Saya memang tak arif langsung hal-hal kereta.
Apa nak kisah sangat, naik, start your engine gentleman (eh, ini main need for speed lah) dan jalan. Kalau kereta tu ada 7 kuasa kuda dengan shift gear dekat stereng sampai 8 pun bukan dia boleh bawak kita pergi bulan. Tetap jugak atas jalan raya yang sama dengan Cute Little Kancil dan Ikan Kelisa. Eh, sampai juga destinasi yang dituju sama-sama dengan Honda Cup. What's the different?
Tapi, lepas pemikiran dah di develop dengan macam-macam idea pasal kereta, (thanks to you Sayang) saya adalah sifu. HAHA. Bukan sifu sampai tahap ada kereta rosak aku tuding jari je terus boleh pecut. Bukan. Saya terer bab-bab kereta German terbaik wok. Kereta Korea spare part payah, lepas 5 tahun kondisi tahap lemah. Kereta Jepun design cantik. Correct me if am wrong.
Jadinya, dulu-dulu saya pemuja Honda Jazz. Oh, haku terserempak dengan Nana AF bawak Jazz Pink dekat Tol. Terus *jatuh cinta*
Jazz Pink
*drooling*
I siap letak syarat, siapa nak kahwin saya, Honda Jazz 1
HAHA
Lama juga Jazz duduk tangga pertama carta kereta idaman. Tangga kedua kereta apa? Err, Jazz juga. 3 - 10 pun Jazz juga. HAHAHA.
Am crazy over Jazz Pink
. Lepastu, dah dapat naik kereta Jazz
Si Montel Eca
, walaupun tak pink saya rasa. Ok. dah taknak. Sebab dah rasa.
Kita move on saja.
Saya kemudiannya menggilai Suzuki Swift. Oh, punggung dia yang lebar itu sangat adorable. Sangat. Nak Swift. Nak Swift. In fact, bilik saya penuh dengan Brochure-brochure Swift.(Thanks to you juga Sayang). Rasa nak memiliki-tapi-tak-mampu-lagi, pergi showroom, dapat brochure. Tampal. Rasa nak lagi, pergi lagi. HAHA. Beli sebiji tak juga. Asik dapat brochure dan tampal. Eh, macam gores dan menang.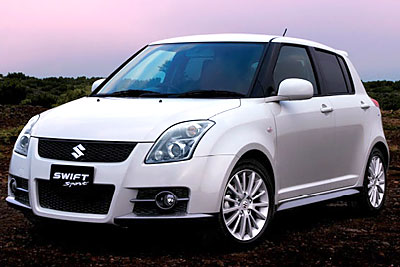 Cool Huh?
As usual, dapat naik Adik sedara saya a.k.a Dr. Azira punya Swift Sport. Ok. dah rasa lagi.

Next!!
Kali ni saya memang serius. I have to get one. No matter what. Memang yang ini buat saya tak tidur malam. Kalau tak dapat yang ini, saya sanggup bertongkat dagu pergi sekolah. Eh, eh. Keluarga macam mensokong as in moral support. Dak Yang juga yang semai racun dalam kepala supaya cintakan Lancer lebih dari cintakan dirinya. HAHAHA Modal Support? Tak dapek den nak nolong kata mereka. HAHAMPEH. Kalau saya jadi beli kereta. Kalau, ku bilang!! saya mungkin sedang makan pasir waktu tu T___T
This is exactly what I want.
I want nobadi nobadi batchu
I want nobadi nobadi batchu
*sambil joget seksi*
Sayang, Pweetty Pleaseeee *sambil kejip-kejip mata*
The latest. Asal selak paper saja tanya saya Are You Polo Enough?. Bila tengok TV pun dia tanya lagi Are You Polo Enough? Sampai haku boleh hafal line tu. Lepastu call Dak Yang. Yang, Are You Polo Enough?
There are also in white
Tapi I think merah is better
Polo enough, Polo enough. Dak Yang bengang.
Lepastu macam biasa lah. Beliau akan search internet untuk cari pros & cons nya kereta yang saya mahu. So far Polo dapat review yang baik. Tapi, Dak Yang fikirkan passanger saya iaitu emak dan babah yang akan bersempit-sempit di belakang Polo. Beliau kata tak sesuai bersama pesanan, jangan jual ikan (selfish) sebab fikirkan diri sendiri saja. Ibu dan bapa bagaimana? Baiklah. Baiklah.
Kereta Malaysia macam tak masuk carta saja? Ehhh, ada lah.
*Menangis air mata darah*
Cantiknya!!!
Dak Yang said Alaa, nanti I tak boleh bawak lah sebab Pink sangat.
P/s:
To Sayang,
ini kertas cadangan saya. Sila ambil perhatian lebih-lebih.
Saya tak mahu CRV mahupun Hyundai Sonata
.
Nanti Bapa Faizal Tahir kecik hati.
Kalau
Audi Q5
saya akan angguk dan terus setuju.